Statement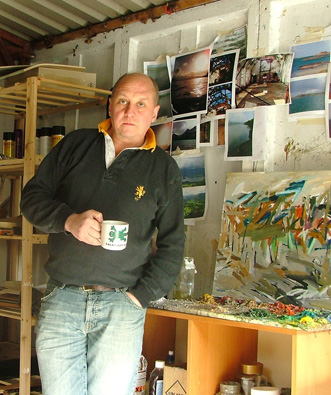 I am motivated by the idea of exploring the possibility of a visual language that communicates more than what I see or what I can explain. In truth, it is probably more about what I can't explain, but know to be there and is not grounded by quantifiable 'fact' or physicality.
Whilst I don't pretend to have fully worked out what this straightforward enough phrase means in terms of my own practice, (and in all probability, I may never achieve it), my belief in its importance is now well established and this is the charge behind what I do.
That conviction is firmly rooted in the tradition of art that is 'landscape' and this fascination was cemented quite a few years ago when I began to walk up and climb mountains. I began to become aware of a reciprocal relationship between the experience of these huge landscapes and of my own art practice where one influences the other.
A mountain is a combination of its physical form (eg its mass) and of human perception (what we see, feel, hear, smell and touch) which is as individual as each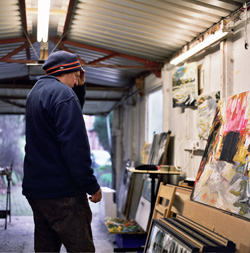 of us. I do not try to
convey scale and distance in representational terms - I am searching for more than an impression.
If light and matter have a common factor in experience then how does that luminosity presents itself to the imagination and how does the artist respond to it and produce artworks that communicate the spirit within?
In that context, it makes sense to say that you can paint or draw 'about' the landscape, and not just reproduce its physical or 'factual' shape in a representation of what our eyes tell us. I can say with some certainty, if not complete understanding, is that my work is not an optical expression, but an emotional one.